Today I am excited to introduce you all to a lovely WAHM shop called
Rebourne Clothing
. The mama behind the shop is Marni, and she has a fantastic selection of cloth diapering items for sale in her shop. She makes and sells organic prefolds, flats, and fitteds; wool covers, wraps, and longies; blankets, clothing, and mattress toppers. One really unique thing about Rebourne Clothing is that they are committed to keeping their business green and Marni uses a cool cargo trike to take packages to the Post Office! I asked her to share a little with us about how her shop got started and what types of diapers she likes to make.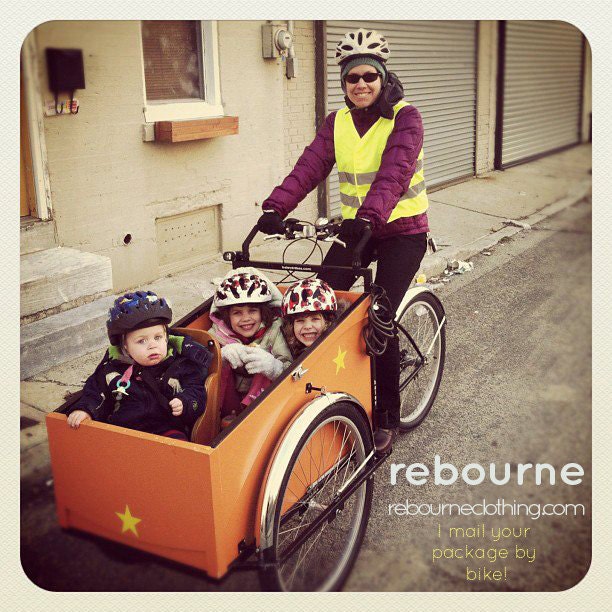 My shop got started after the birth of my first daughter in 2006. We cloth diapered her from birth, but made many mistakes like assuming a fitted diaper was a cover! I got pregnant again in 2007 and started making diapers for our second baby. At first, I sewed a lot with PUL, synthetic fibers, and microfibers. Now I only sew with natural, organic fibers. They are safer for our babies and our earth. I opened my shop in 2008, but I didn't start selling many cloth diapering items until 2009. Rebourne has been my full time job since last January!
I also make organic fitted cloth diapers, organic prefold diapers, and organic flat diapers. My favorite to make are the fitted diapers because they are the most challenging (and often the cutest!). My favorite items to make are the unique ones: quirky Woolie Wraps, custom footies or custom overalls! I like the challenge of working with recycled wool and the constraints of holes and sleeves. I also just designed some fabric for fitted diapers that will be released this Spring!
Marni sent me this beautiful
wool wrap
to review and we have been loving it! This wool wrap is made with an upcycled wool outer and an organic merino wool interlock on the inside. It has a perfect amount of stretch to it and plenty of crossover snap options, giving a great customizable fit for babies 7-35 lbs. I am relatively new to using wool in my cloth diapering journey, and I feel like a wool wrap that snaps on is a perfect introduction to wool if you are looking to start! You get all the benefits of wool, but in the wrap shape that you're used to with PUL covers.
Marni is a licensed seamstress for the Nifty Nappy pattern, and has these cute tags on her wrap that show both her website and the Nifty Nappy information.
Here is a shot of the interior of the wrap. The organic merino on the inside is just lovely!
This is as close to a front shot as I could get with Ava, but you can see that we got a nice smooth fit with this wrap. These pictures are of the wrap over a GroVia Kiwi Pie fitted (review coming soon!).
Here is a side shot of the wrap. One thing that I love about this wrap is how gentle the elastic is on Ava's legs. Ava has chunky legs and a skinny waist so usually I really struggle to get covers tight enough around the waist without having it too tight around the thighs. With this cover though, it was so easy to get a perfect fit every time and the wool is so gentle on Ava's skin!
Here is another side shot so that you can see another view of how nicely this fits Ava.
Here is a shot of the back of the wrap. I just love this fit of this on Ava and the color is just so gorgeous!
Overall, this cover has worked so well for us! Since we started using this cover at night we have not had a single leak, and it fits great over even the bulkiest of our nighttime options. The wool washed up and relanolized great and has stayed beautiful through many uses. I like to put fitteds underneath this cover, but we have also used it over prefolds and it works great over both.
Rebourne Clothing has such a lovely selection of diapers for sale that I truly would love to have one of everything Marni makes! I have my eye on a few of her wraps and fitteds that I might just have to add to my stash the next time I'm ready to make a diaper purchase.
Marni has generously offered a $10 gift certificate to one of our readers! This is a great way to get one of her lovely products in your hands and I just know you'll love them. Enter in the form below!
a Rafflecopter giveaway