Arriving in the mail, wrapped super cute...
And in the most adorable of colors (Melanie from
EmotiBums
chose Carrot and Sky Blue for me because I couldn't make up my mind!)
Came this cutie!
If you're having trouble deciphering, that's "angry" in 'emoticon' speak. You know:
:-) Happy
:-( Sad
>.< Wince
:-P Phhhhtttt (ha!)
This has been the perfect cover for our youngest as he's worked on a mouth-full of teeth over the past few weeks. He has definitely been:
ANGRY!
One of the things I love the most about Melanie's
EmotiBum
's fleece covers (other than the hysterical, conversation-starting, adorable bums!) is that they include a higher rise and taller waistband. All our boys seem to have a high-rise! Also, I have grown to love using fleece at night, and jam packing a fitted usually means I need some extra fabric covering.
Higher rise in action:

Her soaker looks almost like a short - which I love! More leg room, for extra leak protection as well.
Here you can see some gappage around the thigh. As Caedmon has started crawling and cruising, his thighs have definitely thinned out. However, we have yet to experience any leaks from that gap.
I'm definitely addicted to fleece. I love that it is so breathable, doesn't leave marks on legs, incredibly soft and, all at the same time, so mysterious (you know - how it holds in all that "moisture", hehe). Melanie's EmotiBums are definitely a winner if you are looking for something past your traditional fleece soakers!
You can choose from any of these emoticons: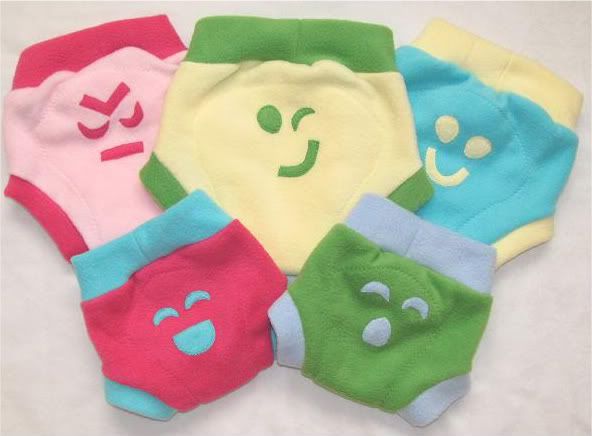 In any combination of these colors:
Melanie makes these cuties in fleece soakers, capris, board shorts and longies and is currently stocking at
On The Other Side
on Hyena Cart. To order, you can either purchase through
On The Other Side
or email her at
melle_sacto AT yahoo.com
. You can also find her on her business page on
Facebook
.
If you just
have
to have a soaker, you're in luck! Melanie has offered a discount
for the first five orders from Cloth Diaper Addiction - a 20% discount off your order AND free shipping!
Don't wait for this though! This is for the first five orders, ONLY! Also, this deal will expire On June 30, 2011. Please mention you read about this deal on Cloth Diaper Addiction.