I know, I know, I
still
owe a post on Flats
, and how things went/what I thought/etc. I'm also waiting on some awesome products to review for you lovely fans. However, I've been dealing with some equilibrium issues, and whenever I look into a camera, it makes me dizzier than I was before ;) So, I'm relying on stock photos to share a post today of what all is going on in our home!
It's football time, and so...
My children are re-learning the art of screaming, "Roll Tide!" at the appropriate times ;) And because many people ask, no, I'm not from Alabama, nor is anyone in our family. While I was in college in Tennessee, I had many friends who were Bama fans, and they rubbed off on me.
During nap time, I've been starting a habit of eating some chips/
salsa
for lunch, while watching Dirty Jobs on Netflix.
We've watched most seasons on TV, but it is so fun to re-watch them (and catch up on what all I missed when we didn't have cable for a few years). I feel like it's a good work out since I spend about 45 minutes laughing super hard ;)
That is if I get to watch it.

The littlest of the little ones (my 2 year old) spends most days fighting naps. We're not sure if he is fighting due to teething, or what. However, I'm looking forward to his chiropractor's appointment tomorrow (and the post-adjustment nap!)
This is not our chiro, nor is it my child ;-)




My older two are using these up by the hour: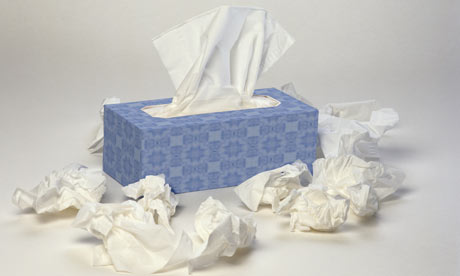 My oldest son tracked back in (he's in a year round school) last week and came home Friday saying that one friend in his class had "the sneezes". The next thing I know, he has 'the sneezes', and then, my middle has 'the sneezes'....lovely ;)
Next...
No. We aren't joining Greek life. Hubby has entered his
next to last
semester in Seminary, working towards his M.Div. He's put off taking Greek for as long as he can, and the time has come to get these language classes in. I'm seeing these little note cards all over the house, and hearing my hubby speak obscure words. Come quickly, May!
I think that about sums it up on this end...
What's going on in your home?